Join the Broadband Revolution!
Amazônia Banda Larga delivers the best satellite-based Hyperspeed internet access and networking solutions to enterprise, government, education and small, medium and large business clients anywhere in Brazil.
ABL does not provide residential service.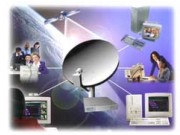 Based in dowtown Manaus, ABL has been serving the Amazon since January 2005 with HughesNet® internet via satellite for small to medium sized businesses.
Today, in addition to HughesNet®, ABL offers iDirect, a premium satellite internet service for clients who need more than our basic service, WAN Optimization, BGAN (Mobile Service), Corporate Network installation and maintenance, Thin Client, and Air Traffic Services. Please check our services page for a summary of each of the services that we offer.
Click here or call our office at (92) 3234 8171 to speak with a consultant about ordering one or more of our services so that you can have the best internet and networking service available for your business.