Why Satellite?
To navigate in the internet in Hyperspeed, ABL uses a the latest generation of satellite technology that receives and transmits the signal through a parabolic antenna linked by a terminal to your computer or router.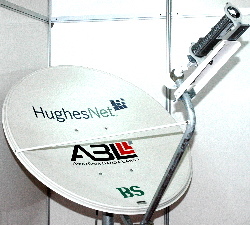 Why does ABL specialize in internet service via Satellite?
No Territorial Limit. Unlike traditional connections, such as copper wire, fiber optics, and point to point radios, broadband via satellite is available anywhere in the world. ABL exists to provide broadband internet service not only throughout Amazônia, but also in all of Brazil.
Rapid Deployment. The Satellite solution can be much more rapidly deployed that other options that require terrestial infastructure.
Higher speed and better service. Satellite broadband provides much faster download than dialup and better quality in the data transmissions. With satellite we currently have a maximum speed of 1Mbps and the system is scalable, meaning once you have the system installed, you can increase the speed simply by ordering a higher level of service. You will do much more in less time. That means productivity.
No more use of the phone line or paying pulses. With the ABL solution, you don't need to use your phone line any more, leaving it free for making phone calls and putting an end at once to the enormous expenses with pulses. Actually, you don't depend on the telephone system or any other terrestrial infrastructure. The systems only need electric power to be installed.
No Equipment Purchase. With the ABL solution, you don't need to acquire the terminal or the antenna. We will install all of the equipment and loan it to you. If something goes wrong with your equipment, we will exchange it for a new one without additional cost to you. If you wish to purchase the equipment, we will give you a discount on your monthly service.
Always Connected. Your connection is immediate. When you turn on your computer and terminal, you are already connected to the internet by direct access without dialing and without any additional command. Installation and Configuration of your PC are made by specialized professionals.
Click here to order our service and be the first business in your area with Hyperspeed internet access via satellite.